Ranch and Cream Cheese Slow Cooker Chicken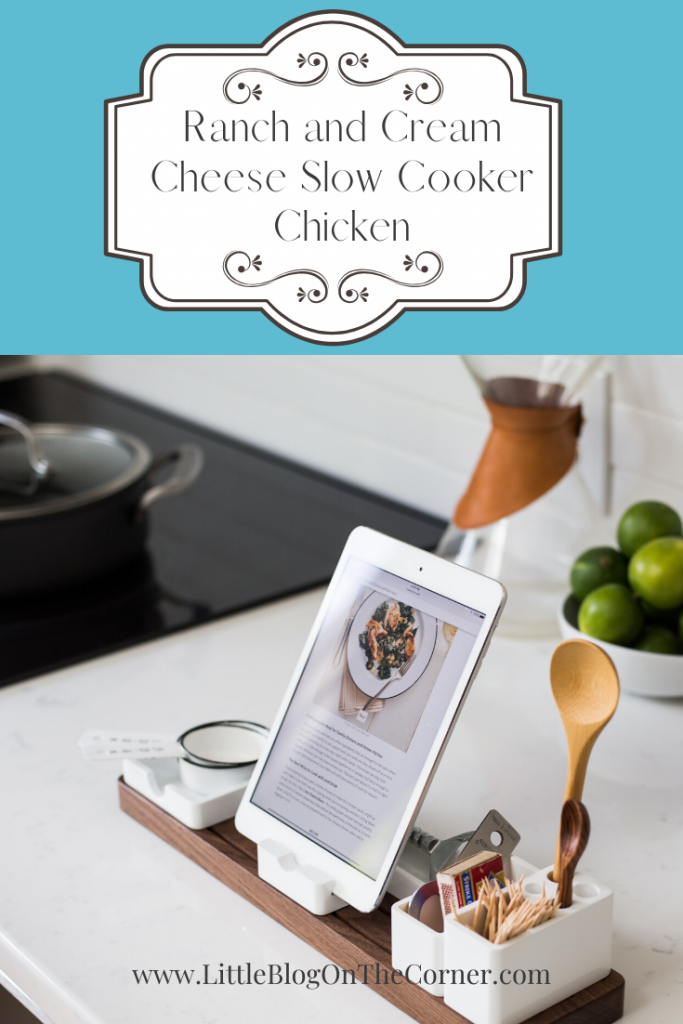 Are you ready for another incredibly easy, family-friendly chicken recipe? This one is similar to the other chicken recipe we shared recently and yet it tastes completely different.
Most of the recipes that we share are extremely easy because we know your time is limited. As a working mom mealtime is important but spending quality time with family is much more important. So easy recipes get your family fed and you out of the kitchen and on with life much faster.
I hope you add this one to your recipe box.
Ranch and Cream Cheese Crockpot Chicken
Ingredients
6

Chicken Breasts

1

Pkg

Dry Ranch Dressing

16

Oz

Cream Cheese

Shredded Cheese

6

Slices

Cooked Bacon
Instructions
Lay the chicken in the crockpot the ranch dressing on the chicken using the entire package of seasoning. Cube the cream cheese and add it to the top.

Cook on high for 5 hours or until the chicken is cooked.

Sprinkle shredded cheese on the cooked chicken. Crumble the bacon on top of the chicken and the cheese Cover and cook until the cheese is melted.

Serve with rice and mixed vegetable or a lovely tossed salad.
I am an affiliate for Amazon and I get a small commission if you purchase through these links at no additional cost to you.
If you need a way to cook and serve your new recipe, we have added links to products below that will help you out.
7 QT Slow Cooker In Turquoise
The perfect way to cook your new recipe is in this beautiful 7-Quart capacity crockpot that serves 8+ people
It has high, low, and warm settings like most crockpots.
The stoneware insert is removable for easy cleaning.
Best of all the insert is dishwasher safe.
And, if blue is not your favorite color, the stainless steel exterior comes in a variety of colors and patterns with black accents.
Beautiful 16 pc Stoneware set in shades of Blue
Once you have dinner ready, you need a way to serve it to your family.
I am a huge fan of this beautiful sea blue stoneware with brown accents. This set will surely become a favorite at dinner time.
Each dish is crafted to be unique in its own contemporary way making your mealtimes truly special.
Or if you want something neutral but elegant on your table, this Pfaltzgraff 16-Piece Stoneware Dinnerware Set is the perfect match for you.
Pfaltzgraff 16-Piece Stoneware Dinnerware Set
Pfaltzgraff has created a beautiful, simple, and versatile setting that is sure to enhance all of your meals.
This 16-piece dinnerware set includes four- 11-inch dinner plates, four-8-inch salad plates, four 6-inch soup cereal bowls, and four 12-ounce mugs
Each piece is made of high-quality stoneware for long-lasting beauty and durability
Round Braided Placemat Set
These round braided placemats fit all of your rectangular, round, and oval dish settings.
They are an appropriate fit for almost any kitchen or dining room decor, contemporary to country.
They are perfect for using inside or even outside during warm summer months.
The primary color of each mat is beige with accents of light brown with a few white threads woven in.
Best of all they are easy to clean. You can wipe them down with a damp cloth. or hand wash them and allow them to air dry.
Shacos round placemats are a great addition to birthdays, holidays, and any other special occasion you will host this year.
Oversized Flax DINNER NAPKINS with Lace
No table is complete without napkins, right?. So add this set of 12 oversized napkins in Natural to your list.
These flax napkins are wonderful for your dinner table for every night use but are also elegant enough for special occasions like weddings and anniversaries.
The napkins are made of 88% Cotton and 12% Linen instead of cheaper alternatives like Polyester
And best of all they are machine washable.
Stainless Steel Eating Utensil Flatware Cutlery Set Service for 12
If you need a new set of silverware to replace the mismatched utensils you're using now, then do purchase this 65 piece set of silverware.
Included are 12 complete place settings plus 5 serving pieces: A Serving Spoon, Slotted Serving Spoon, Serving Fork, Pie Server, and a Butter Spreader
Each utensil provides a perfect grip for both adults and children.
Like the neutral place settings above, this utensil set is simple but elegant and is a great compliment to all of your dinner parties.
And there you have it. A very simple meal and beautiful, elegant table settings to choose from to serve it on.
I hope this recipe serves your family well. Let me know if you have tried it and how you liked it in the comments below.