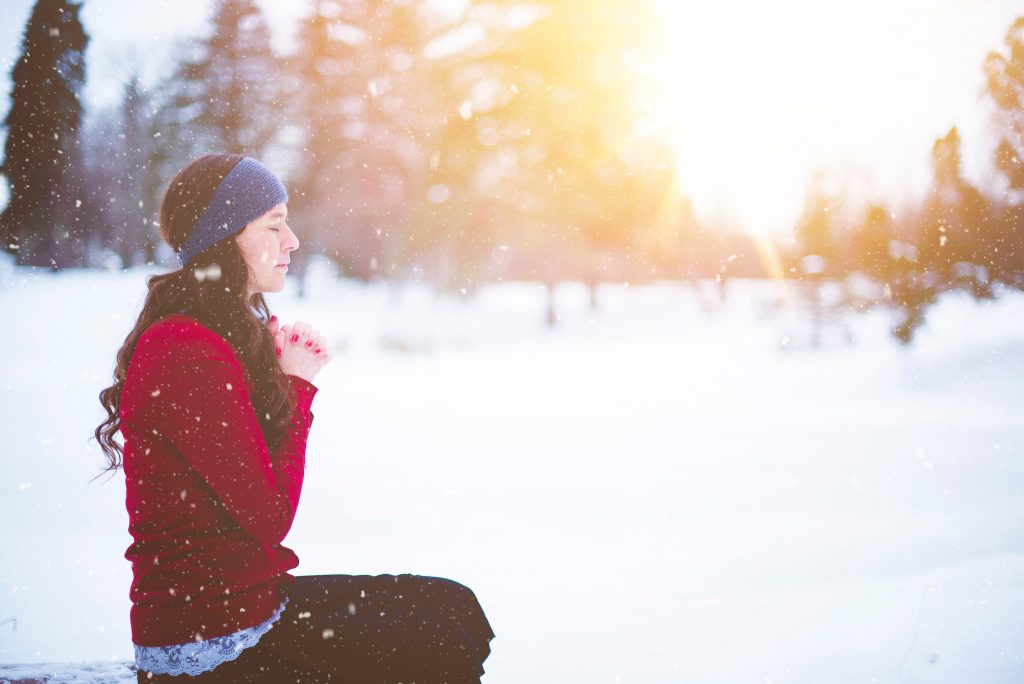 There are always times in life when fear and worry try to overtake our minds and hearts.
Worry about current events, work or our home life can cause us to become paralyzed and can consume our thoughts.
It's in such times of stress and anxiety that we need to take the Word of God and mediate on it over and over again until the Word becomes bigger than the thoughts that are trying to bring us down.
According to the Oxford dictionary, to meditate means to "think deeply or carefully about (something)".
It also says meditation is to "think deeply or focus one's mind for a period of time, in silence or with the aid of chanting, for religious or spiritual purposes or as a method of relaxation."
Unfortunately, when we think of meditation, we think of Eastern religions. But the Bible tells us over and over again to meditate or to think deeply or carefully about the Word of God.
It means we are to "focus our mind" on scriptures. We are instructed to set our minds on things that are above, not on things that are on the earth. And when you do so, as you meditate on the Word of God, the fear and the anxiety will begin to melt away and you will experience God's peace, which exceeds anything we can understand. His peace will guard your hearts and minds in Christ Jesus.

It is with that Word that we "tear down arguments, and every presumption set up against the knowledge of God; and we take captive every thought to make it obedient to Christ."
When those thoughts of worry and anxiety and fear rise up in .your heart and try to overcome your mind, take the scriptures that I am going to share with you, read them aloud, put your name in places where appropriate and remind the devil that greater is He that is in us than he that is in this world.
The following 10 scriptures are for you to meditate on to help you overcome fear and anxiety.
Write them out and tape them on your bathroom mirror, place them in your day planner at home and at work. PIn them up on your bulletin board in your office. Use them as a book marker for the book you are currently reading. Whatever method you use, just keep them before your eyes day and night.
Scriptures
So we can confidently say, "The Lord is my helper; I will not fear; what can man do to me?" Hebrews 13:6
Be anxious for nothing, but in everything, by prayer and petition, with thanksgiving, present your requests to God. Philippians 4:6
So do not fear, for I am with you; do not be dismayed, for I am your God. I will strengthen you and help you; I will uphold you with my righteous right hand. Isaiah 41:10
The Lord is my light and my salvation; whom shall I fear? The Lord is the stronghold of my life; of whom shall I be afraid? Psalm 27:1

And the LORD, He is the One who goes before you. He will be with you, He will not leave you nor forsake you; do not fear nor be dismayed. Deuteronomy 31:8
Therefore do not be anxious about tomorrow, for tomorrow will be anxious for itself. Sufficient for the day is its own trouble. Matthew 6:34
But when I am afraid, I will put my trust in you. Psalm 56:3
The eternal God is your refuge, and his everlasting arms are under you. He drives out the enemy before you; Deuteronomy 33:2
For God has not given us a spirit of fear, but of power and of love and of a sound mind. I Timothy 1:7

The LORD is my shepherd; I shall not want. He makes me lie down in green pastures; He leads me beside quiet waters. He restores my soul; He guides me in the paths of righteousness for the sake of His name. Even though I walk through the valley of the shadow of death, I will fear no evil, for you are with me, Your rod and Your staff, they comfort me. You prepare a table before me in the presence of my enemies. You anoint my head with oil, my cup overflows. Surely goodness and mercy will follow me all the days of my life. forever Psalm 23
Let the Word bless and keep you!
In the comments below, tell me what scriptures are a comfort to you and help you when you are tempted to be afraid.
Join the Little Blog Family
Subscribe to get our latest content by email.