How to Set Up Your Home Office: A Super Easy Guide
Best Tips and Recommendations For Your Home Office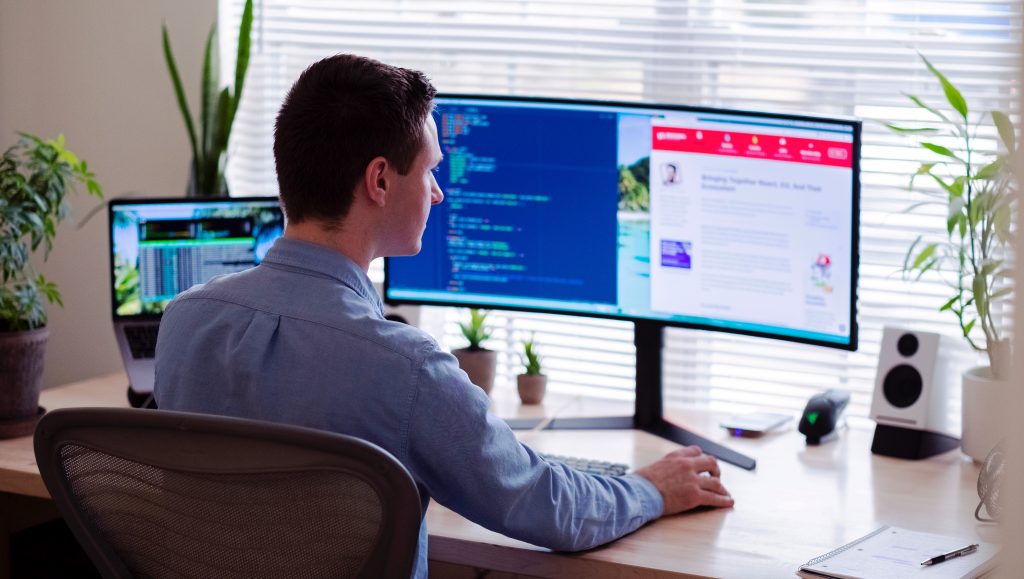 For many of us, our jobs have continued, but we're now working at home instead of in our well-organized office spaces. So quite unexpectedly, we've had to set up makeshift workspaces in the corners of living rooms and in spare bedrooms in an attempt to still be able to get our work done efficiently and on time.
So Where Do We Go From Here?
If you are still in the process of setting up your new workplace, you will likely need the same electronics and office supplies that you utilized in your traditional office space.
(I have created a helpful downloadable checklist at the very end of this article.)
To help you expedite the process, I have completed the research for you and provided several options for best computers, printers, scanners, and copiers of 2020 recommended by PC Magazine and TechRadar. I have also provided links and descriptions to highly rated desk chairs, monitors, lighting and file storage to help you with your purchases.
A Desk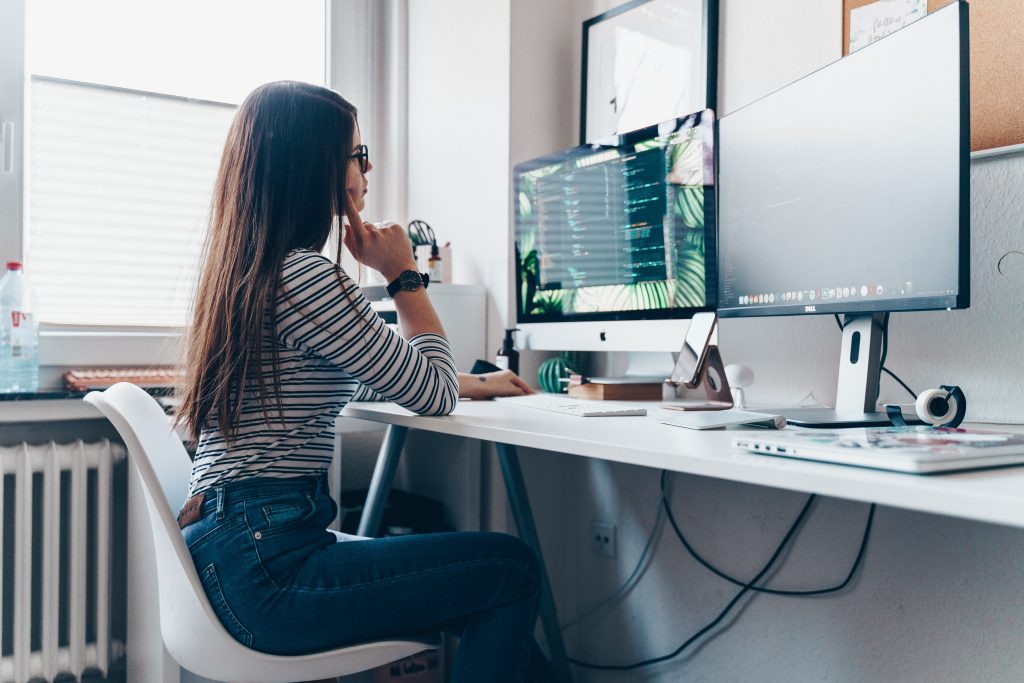 The most important thing you'll need, of course, is a desk or a table at which to work. It sounds cozy to be able to sit on your oversized couch in your bunny slippers with your laptop for hours on end. However, such a set up for most office jobs is not workable. You will eventually need a flat surface to process files and paperwork.
If you don't have a desk, Country Living published the article below in 2019 It has 15 great desk plans so you can make one if you're handy with tools.
https://www.countryliving.com/diy-crafts/g25738036/easy-desk-plans/
Additionally, your space will need to be organized to help with productivity. When I set up my workspace at home, I set it up much like I have my desk set up at my job site.
For example, I organized it so that files, paper supplies, and the copier/printer/scanner are all within reach of the desk. I set it up this way for the sake of efficiency and workflow.
I also organized the top of my desk and my desk drawers like they were organized in my office space: The tape dispenser, stapler, and inboxes are on the left-hand side. The drawers on the left contain my sticky notes, paper clips, binder clips, extra tape, extra staples, notepads, a Rolodex plain envelopes, and self-addressed return envelopes. The right-hand side of my desk surface holds my pencil cup, pictures, and my desktop file organizer that holds letter-sized manila envelopes as well as working files. The right-hand drawers contain my pens, pencils, markers, highlighters, white-out, staple puller, reading glasses, extra paper for my Tul notebook, thank you cards and birthday cards.
The point of this description is not to encourage you to set up your desk like mine but to help you stop and think about your own desk arrangement at the office. Consider recreating that space in the same way if it was working for you. In the long run, you most likely won't have to search for the things that you need since the system is familiar so it will again help with productivity.
On the other hand, if your previous office space was not working for you, then, by all means, create an environment that better suits your needs. If you need help, Alejandra of Alejandra.tv is a pro at teaching organizational tips. Her videos on Facebook and YouTube are helpful. I find her older videos on office organization to be better than her newer ones. Right now, it appears her actual website is only a landing page (an advertisement) for her 2 organizational courses) so I didn't find anything of use there. Below are two of her older YouTube videos on office organization that might be helpful.
How to Organize Your Desk
How to Organize Your Desk Drawers
Whether you've decided to use a kitchen table, a vanity, a console table, or build a desk, try to set it up where it's quiet and you can get work done.
Now on to computers. No office is complete without one. The question is, which is better a desktop or a laptop?
Desk Top Computers And Laptops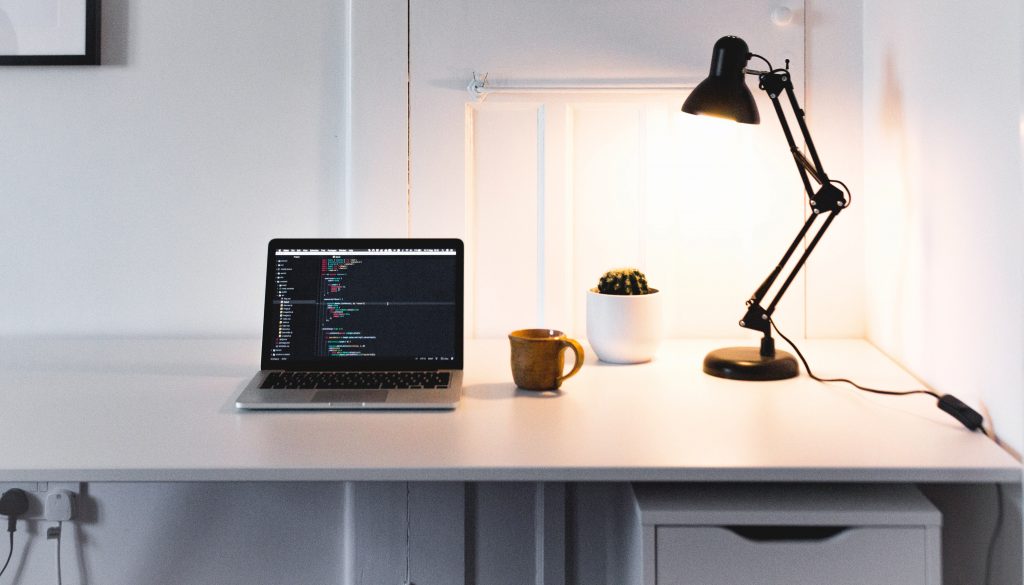 If you are upgrading your computer to work at home or you're starting from scratch, Techradar has a timely article to help you out. Their article The Best Business Computers of 2020 covers Windows and Mac desktop computers and laptops, including the HP Elite Slice G2 for Meeting Rooms. (I've never heard of the Elite Slice until I read this article. It sounds interesting but I have no idea how well it functions. If you have one or if you purchase one, come back to this article and post your review! I would be curious if it is worth the price tag.)
So, which is best for your home office, a laptop or a desktop? The choice comes down to how you will need to use your computer. A desktop is more powerful than a laptop if you need to do a lot of video or design work. They are also easier to repair. On the other hand, desktops are obviously not easily moved from place to place so if you need to work away from your desk often, then a laptop is the obvious choice for you.
Here is TechRadar's list of recommended personal computers for 2020:
Best business computers at a glance
Dell OptiPlex 3050 Micro
Microsoft Surface Studio
Apple iMac Pro
Apple iMac (27-inch, 2019)
Apple Mac mini
Dell Optiplex 3020
HP Elite Slice for Meeting Rooms
If you need to be more mobile, TechRadar also has recommendations for the best laptops:
The best business laptops at a glance:
Dell XPS 15
MacBook Pro 16″
Lenovo ThinkPad X1 Carbon (6th Gen)
Huawei MateBook X Pro
Dell XPS 13
Apple MacBook Pro with Touch Bar 13-inch 2018
Lenovo Yoga C630
13-inch MacBook Air (2018)
Microsoft Surface Book 2 (13.5-inch)
Asus Chromebook Flip
Hopefully, these recommendations will help you find a computer that best meets your business needs.
Highly Rated Monitors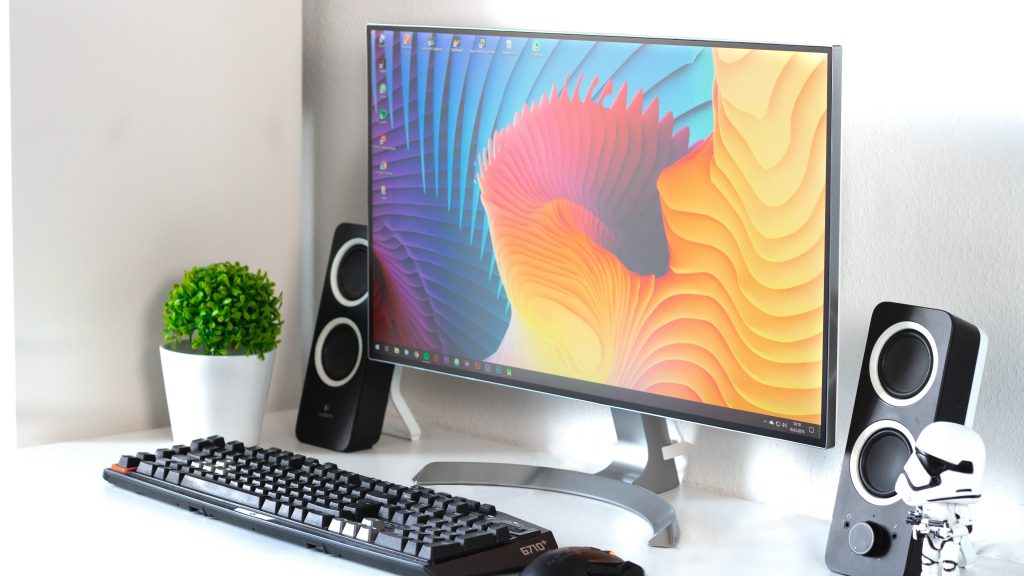 I am an affiliate for Amazon. If you make any purchases through the Amazon links provided, I make a small commission at no additional cost to you.
Now that you have a computer, you will need a monitor or two.
I picked out three examples of monitors on Amazon with a significant number of five-star ratings. I have an older version of the Dell monitors. They work really well for me but someday, I would like to try a curved monitor.
The ViewSonic 22 Inch Frameless LED Monitor
First of all, the ViewSonic Monitor
is great for home or the office and it's a great choice for either a laptop or a desktop.
It has a thin bezel for stunning views no matter the angle and it has"razor-sharp clarity and detail with full HD resolution".
This LCD Monitor comes with a Power Cable, Audio Cable, and a VGA Cable
The Dell P Series 23-Inch Screen LED-lit Monitor
Again, an older version of this model monitor is what I use for work.
This monitor has a 22% smaller base than the previous model so it frees up more desk space.
It has an ultrathin bezel three-sided design which "lets you enjoy an uninterrupted view of your content across multiple monitors".
The monitor has a pivot tilt swivel and the height adjusts for a comfortable setup,
Most importantly it has ComfortView a feature that reduces harmful Blue light emissions designed to optimize eye comfort even over extended viewing times.
Sceptre 24″ Curved LED Monitor Full HD HDMI VGA up to 75Hz Speakers
This monitor or one like it, is what I would like to try some day.
According to Amazon, the curved display of this 24-inch Sceptre monitor "delivers a revolutionary visual experience with a leading 1800R screen curvature as the images appear to wrap around you for an in-depth, immersive experience."
The thin frame appears to give an edgeless experience.
The monitor has HDMI, VGA & PC audio in ports.
It can be mounted on the wall.
These Sceptre monitors are fully compatible with Windows 10.
Printers, Scanners, Copiers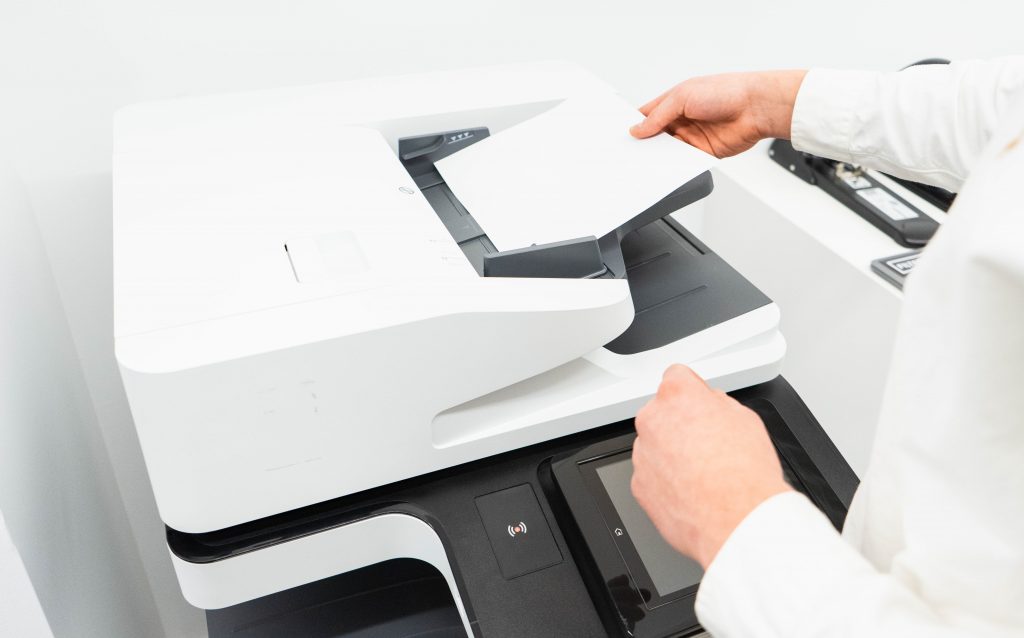 Now on to printers, scanners, and copiers. Every home office needs a printer and a scanner.
I personally own a less expensive version of the Brother compact printer shown below. The printer I have does not print color copies. There's a good chance you're going need color copies at some point so it's worth the money to invest in good copier upfront. I like this model because it prints, copies, and scans and yet it's fairly compact. One of the drawbacks of this model is that it can only scan letter-size documents.
The
Brother HL-L3290CDW Compact Digital Color Printer Copier & Scanner w/ Wireless Printing
This Brother Digital Color Printer prints up to 25 pages per minute
The 250 sheets adjustable paper tray helps minimize refills and the manual feed slot handles varied printing needs
A flatbed scan glass offers convenient copying and scanning and the 2 line LCD display provides efficient feature access. It has a mobile device compatibility air print, Google cloud print, Brother iPrint & scan, Mopria device printing, and Wi-Fi direct printing.
This model offers mobile device wireless printing and built-in wireless Wi-Fi Direct and USB interfaces
It has a Reduction/Enlargement range of 25 percent to 400 percent
Upon activation, Amazon Dash Replenishment measures the toner level and orders more from Amazon when it's low
PC Magazine lists the following as the best printers, scanners, and copiers of 2020. Each one has different capabilities to meet different business needs. One of these options should be a good choice for your home office.
If you need additional suggestions and reviews of printers, click here and check out a recent article at Joe's Printer Buying Guide. Joe has worked as a salesperson for a major technology chain for the past 10 years and provides honest printer reviews and ratings.
Desk Chairs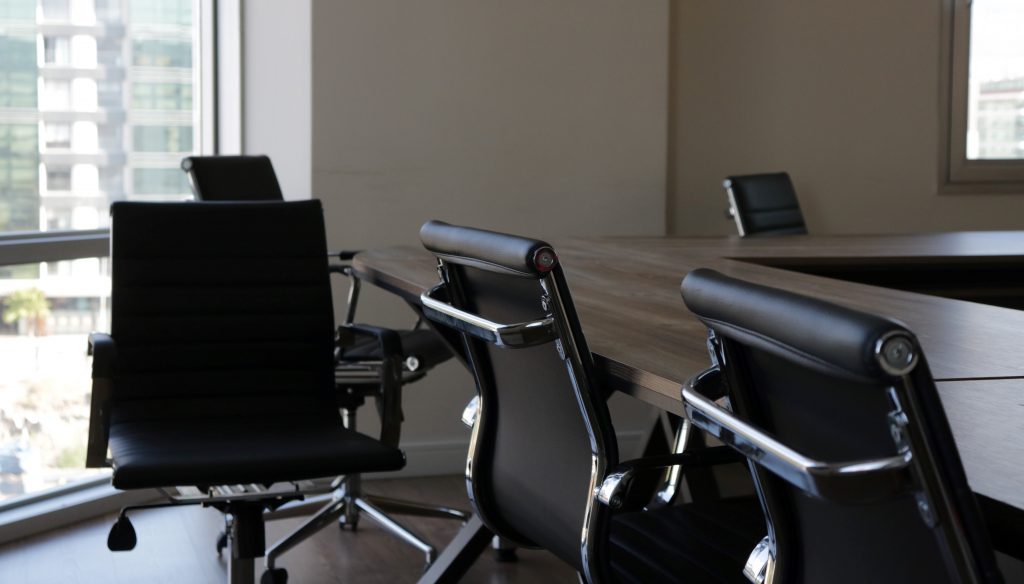 Another important purchase for your home office is an adjustable ergonomic desk chair. Ergonomic chairs are more comfortable than a typical desk chair because they are highly adjustable. They are designed to support your back so you'll have less pain throughout the day. Ergonomic chairs are also designed to improve your posture. The drawback of ergonomic chairs is the price. They can be considerably more expensive than the typical desk chair. Wayfair is a good place to find an affordable option. I found the two chairs shown below on Amazon. Either one of them would be a good option for a home office.
The Bonded Leather Adjustable, Ergonomic Desk Chair
The BONDED LEATHER ADJUSTABLE, ERGONOMIC DESK CHAIR is designed for enhanced comfort.
It aims to ensure good support and comfort so that when you are seated for long periods of time it supports and corrects spine alignment.
This executive chair is made of bonded leather to give you 24 hours of extreme comfort. The high back design provides maximum waist support and the high-density cushions reduce pressure on the legs and back.
This leather office chair features an advanced mechanism that not only adjusts the back angle and the tilt but also locks the position so you don't have to re-adjust each time you sit down. The seat height adjusts from 20.3″ to 24.0″. The rear angle and tilt lock system under the seat can lock at any angle you need.
This heavy-duty chair has a 300-pound weight capacity for long-lasting use.
The manufacturers provide a free replacement for any quality problems within 30 days and free replacements for damaged parts and missing parts within 12 months after purchase.
According to the Amazon description:
The Reficcer High Back Office chair is made of quality materials for maximum comfort and style. The bonded leather gives it a unique and elegant style and that makes it the perfect addition to any home office.
This chair provides you with 360°swivel. The tilt tension knob underneath the seat adjusts the flexibility of rocking back in your chair. You can rock back and forth between 90 to 110 degrees for all your sitting needs. The seat height can be adjusted from 19.7″ to 22.1 ".
The thick and soft lumbar cushion of the Refficcer office chair is supported by a spring which provides you with a 360-degree twist of your back and elastic massage. The chair has soft high-density foam padding and a waterfall seat edge for less pressure on the back of your legs so you can stay comfortable even when you have to sit for long periods of time.
This home office desk chair has a heavy-duty base and nylon rolling casters that make it incredibly easy to move around but also keep you steady when you work.
The chair can withstand up to 250 pounds and it is very easy to assemble and set up. The seller provides a 1-year warranty on replacement parts.
Lighting
Lighting is also an important aspect of your home office. Having the right lighting is more than just about aesthetics. Without it, you'll likely experience eye strain and headaches which will of course, negatively impact your productivity.
I know style is important to you but also make sure. when picking out desk and floor lamps. that they provide sufficient light so you're able to really see to do your work well.
According to NVision, fluorescent tube lighting and the light that comes from computer screens can damage your eyes. The best type of lighting is warm lighting that comes from incandescent and LED lights which are less harmful to your sight. So definitely keep that in mind when you're purchasing lamps for your home office.
Here are a few choices I found on Amazon.
Camber Modern Desk Lamp
Camber Modern Desk Table Lamp Swing Arm with Hotel Style USB and AC Power Outlet in Base Brushed Steel Linen Shade for Bedroom Office – 360 Lighting
What I like the most about the Camber Modern Desk Lamp is the swing arm so you can adjust the lamp to get light where you need it the most. It may be the perfect fit for you if you like a traditional look.
This lamp uses two maximum 60-watt standard-medium incandescent bulbs.
It has a handy built-in outlet and USB port in the base.
The Camber Modern Desk Lamp has a brushed nickel finish metal base and a white linen fabric shade
It's a great option for an office or work desk.
The TaoTronics LED Desk Lamp
I own two TaoTronics LED lights and I highly recommend them. The light from these lamps is gentle on the eyes. I find the 7 brightness levels to be really beneficial depending on what type of work I am doing. The charging port is also extremely handy.
The Amazon description says the TaoTronic lamps
Lights your office space without hurting your eyes; They are ideal for reading, working or studying
This particular model has 5 color modes & 7 brightness levels.
Another benefit is the built-in USB port which helps to keep your phone and other electronics close by and fully charged.
The TaoTronics lamp can be tilted up 135 degrees and has a swivel of 90 degrees; the base tilts down to 150 degrees & swivels 45 degrees
It is very energy efficient. and claims to help reduce your electric bill by up to 75%
The Brody Vintage Farmhouse Industrial Desk Lamp
If you're more into a Farmhouse look, The Brody Vintage Farmhouse Industrial Desk Lamp with USB and AC Power Outlet may be just the thing you need for your home office. I really like the look of this lamp!
This lamp utilizes an incandescent or LED light bulb up to 100 watts
The base has an on-off rocker switch with a USB port and an outlet that works even when the light is not turned on.
The lamp is dimmable with compatible dimmers and bulbs.
A few Other Things YOu Need…
Of course, one of the most important things you will need for your home office is high-speed internet. You won't be able to work from home without it.
You'll also need a way to communicate with co-workers, bosses and/or employees. I use Freeconferencecall.com for most of my teleconferences. They allow up to 1,000 participants and features high-definition audio and video calling, file sharing, and screen sharing. Other options for conference calls are Zoom, Skype, Google Hangouts, Uber Conference, GoToMeeting, and even FaceTime.
I love having an Echo (3rd Gen)- Smart speaker with Alexa in my home office. Alexa can turn the lights on and off for me (with a hub and the right light bulbs). She tells me the weather when I ask, reads me an audiobook on command and plays my favorite music when I ask her to.
Definitely optional but something I have in my home office is a diffuser with essential oils. My favorite oils to diffuse into the room are lavender and peppermint.
Home office checklist
Although I haven't mentioned them up to this point, you will need a host of office supplies. Here is a list of necessities to stock up on:
REview
In review, you will need many things for your new home office but your focus needs to be on initially obtaining the essential things to be able to get your work done. You will need
A high-speed internet service
A desk or table
A desktop computer or a laptop
One or more monitors
A Printer/Scanner/Copier
Table lamps. if your overhead lighting is not sufficient
File cabinet or a file box
Pens, pencils
Pen Holder/cup or pencil tray
Sticky notes
Paper clips and binder clips
Tape dispenser and tape
Stapler
Staple puller
Envelopes
File folders
Copy paper and writing tablets
Optional additions for your office include:
A Free Conference call number or video service
For an extensive checklist that includes everything discussed in this article, download the helpful printable below and start marking off the things you already have and continue to check things off as you purchase them:
Download your list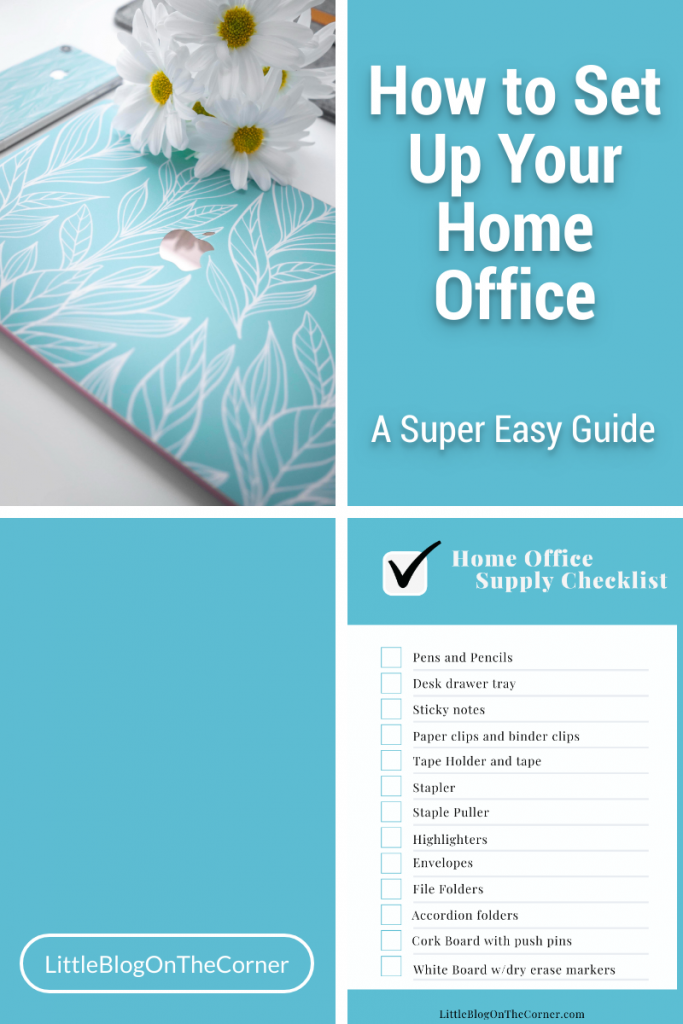 Let me know in the comments below what you have put together for your home office. Is it simple or elaborate? Is there anything you just have to have in an office that we haven't mentioned in this article? We would love to hear your thoughts and suggestions.